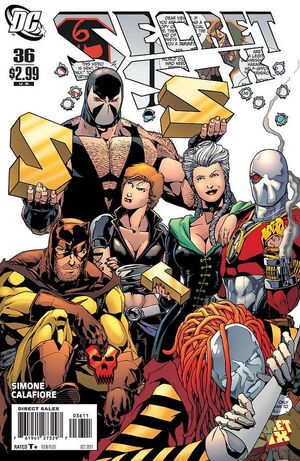 A light week, really light week. Coming in way under budget, and unable to find anything else on the shelves that looked even remotely interesting, I walked out with only 5 issues. But it was 5 good issues, any week with a 1.00 batting average is a good week.
Perma-Pull:
Secret Six #36:
Pick of the Week
. It is with a deep sadness that I say goodbye to the Secret Six. For 36 issues, 3 years straight, this comic has been excellent. Near the top, if not the absolute pinnacle, of what DC produced every month. Bane's plan with-in a plan is finally revealed as the eight members of the six go against everybody, really, everybody. They know they are going to lose, they all know that they are destined for hell now that the mcguffin that started the run has been used. Everyone would rather die then go back to jail. So they go for it. They lose, because they always lose.
Red Skull Incarnate #2:
Not as strong as the first issue, but still solid, as we continue to follow a young Johann Schmidt as he navigates his way to adulthood.
Solid:
GI Joe #4:
Zartan and Storm Shadows assault on the Pitt has left the Joes divided and scattered. Scarlett and Flint are left to try to set-up a new base, Hawk and Dial Tone rendezvous with Shiprwreck, and Duke and his team are left chasing snakes. One of my favorites, Lifeline, makes his first appearance in the series.
Avengers Academy #17:
As the team tries to come to grips with their actions in the previous Fear Itself tie-in issues, they are interrupted when the Norse powered Absorbing Man and Titania come looking for Hank Pym. The issue ends with the cadets stranded, out matched, and divided. This is generally the best Avengers title currently running, and this issue does nothing to stop that trend.
Chopping Block:
Thunderbolts #161:
When the worst comic of the week is better than average, it's a pretty good week. Thunderbolts manages to actually advance it's own plot while being a Fear Itself tie-in. Fixer's side deal comes into play and the magical duo of Man-Thing and Satanna are playing a game not everyone else is in on.
Totla Price: $17.51
Image from:
dc.wikia.com