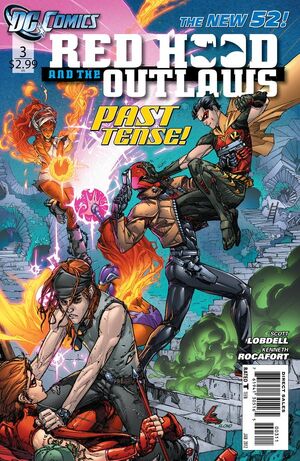 Heavy week, kind of makes up for the last two light weeks. Despite the budget busting, I'm still very pleased. This has been one of the most enjoyable weeks in comics in months. for the first time in weeks, my choice for pick of the week wasn't based on which comic rose above the mediocre, but between multiple seriously good issues that all deserved the slot. But only one issue gets the most coveted prize in comics, the $30 Pull List Pick of the Week.
Perma-Pull:
Blue Estate #7:
Three plots intersect as Rachel is forced to do some improvisation. All the threads become weaved together bloody violence.
Solid:
Red Hood and the Outlaws #3:
Pick of the Week.
You get some good background on the characters here. That is the main thing with this issue. History, background, personality is all delivered quickly, deftly and with excellent artwork. The final 4 pages are tragic and touching.
Birds of Prey #3:
We get to see that Ivy's power set has changed a little. We also find out that explosives triggered by nursery rhymes can be inserted by physical contact three times. We also get a dubious anatomy cover. I'm still on the ledge about this comic. It might be dipping into Chopping Block level.
Catwoman #3:
Judd Winick continues to tell a hell of a story. Catwoman's escapades catch up to her and it costs her a friends. This issue sets a quick pace and ends on a cliffhanger. Good stuff here, it leaves me wanting more.
Batman #3:
Batman gets close to the Talon and the Court of Owls, maybe too close for their liking. This issue is good, but not great. One of the issues is Greg Capullo imitating Howard Chaykin's style. For me, some of Chaykin's best work has been when his art work doesn't have his signature style, like Bite Club.
Thunderbolts #165:
Thunderbolts claws its way back into the Solid range. Finally an issue that is better than good enough. Witty, quick, and exciting. About damn time.
Snake Eyes #7:
This was almost a perma-pull, but the last few issues have been mediocre. Even with Kwinn making his second appearance. Better than issue 6, but still not up to the first 4's standards.
Avengers Academy #22:
Hank calls in a favor to get Magneto to take a look around the death of Jocasta. This does not go well as accusations are leveled at Quicksilver and the kids decide to stick up for their teacher. Nice little character developing issue.
Chopping Block:
Justice League #3:
Modern comic writing is built around the trades. So a story arc runs about 6 issues. That's about 120 pages, give or take. We are 60 pages in now. It took half the arc to introduce all the characters, we still have no sighting of the villain, and no sign of an actual villainous plan. Wonder Woman, Flash and Cyborg are so far the only characters that aren't assholes. For DC's Flagship title, this has been lackluster at best.
Captain America #4:
Four issues into the new run, not feeling it. Pacing is poor, the plot is meh, the art is inconsistent. Really, I expect more from Brubaker, who this time two years ago, I would have read his interpretation of a phone book.
GI Joe: A Real American Hero #172:
Darklon is captured, but Lady Jaye is seriously wounded. One of the Ninjas Three doesn't make it as a new techno-ninja surfaces. I seriously debated demoting this to Death Row this week.
Mass Effect: Invasion #2:
The Mass Effect comics have always been the weak link in the series. This is the weakest of the weak link. It makes no sense if you aren't already up on the fiction, the art is murky, vague, and unattractive. If I wasn't already emotionally invested in the series and Mass Effect 3, I would be avoiding this like self inflicted groinal contusions.
Total Price: $43.72
Image from
dc.wikia.com