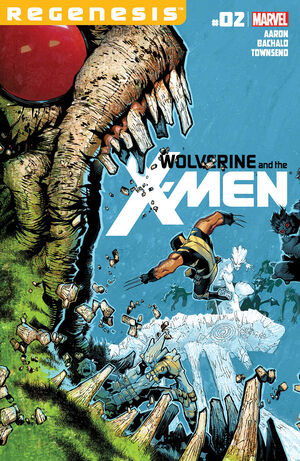 Light week with only 6 issues coming in this week. Helps make up for the heavy week last week. It's the day before Thanksgiving, and I know we are all thankful for the Pull List.
Solid:
Wolverine and the X-Men #2:
Pick of the Week.
Picking up where issue 1 ended, the new Hellfire Club is throwing down with Wolvie & crew. Iceman pulls a new power stunt and shows that maybe these years of us being told he was one of the most powerful mutants on the planet is actually true. We also see Broo get named and fall in love, Kitty get kissed, and Hank worry about having left some Frankenstein on. More crazy goodness.
Secret Avengers #19:
The high point of Warren Ellis's run so far, and a serious step up from the last few issues.Good pacing, good action, and good dialogue. That makes this a good issue.
Teen Titans #3:
Kid Flash pulls a Billy from Family Circle and Tim makes a new friend. This is kind of a mediocre issue which really only serves to introduce a new character.
Justice League Dark #3:
John Constantine is John Constantine and seems to be a bit of a magical Magpie. Deadman is still a disturbing sexual predator. shade goes looking for a new member. Enchantress finally finds June. Moving forward at a good pace and in an interesting way, that makes this pretty good.
Hellblazer #285:
The penultimate chapter of Constantine's coat hunt brings the three storylines together, as John tracks the demon summoner, the mafia plans to bring the war to John, and the coat tags along for the ride.
Captain America & Bucky #624:
The final issue of Brubaker/Andreyko's run on Cap sees the story come full circle, with Bucky telling his tale of life as the Winter Soldier. This period has really been the low point of Brubaker's Cap, which until this year had been an incomparable run of awesomeness that only the first 100 issues of Fables came close to matching for long term excellence. But really, the time has come for new writers.
Image from
marvel.wikia.com
Total cost: $21.95